Aylsham Bathroom and Kitchen fire: Owner charged with arson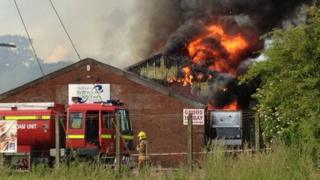 The owner of a Norfolk kitchen and bathroom showroom has been charged with arson following a fire there last year.
Justin Hindry, 40, of Drayton, near Norwich, has been charged with two counts of arson and two counts of fraud by false representation, police said.
They relate to fires at Aylsham Bathroom and Kitchen Centre on 27 June 2012 and at Haven Seashore Holiday Park, Great Yarmouth, in November 2011.
Mr Hindry was bailed to appear before Norwich magistrates on 9 September.
More than 40 firefighters tackled the blaze at the bathroom and kitchen showroom in Burgh Road, Aylsham, which destroyed the building's roof, walls and stock inside.