Ex-BBC DJ Michael Souter a 'serial child abuser', court told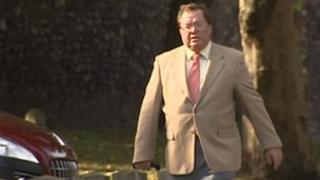 A former BBC radio presenter was a "serial child abuser" and attempts to prove his innocence had "fallen short by a million miles", a jury has heard.
Michael Souter, 60, of Loddon, Norfolk, denies 19 sex attacks on seven boys and nine counts of making and possessing indecent images of under-18s.
In his closing speech at Norwich Crown Court, prosecutor Andrew Shaw said the evidence against him was "crushing".
But Mr Souter's defence said the allegations were "absolute rubbish".
The attacks allegedly happened between 1979 and 1999 on boys aged 11 to 16.
In his career Mr Souter, originally from Scotland, worked for BBC Radio Norfolk and Radio Clyde.
The court heard he was a leader in the Scout Association and also involved in a Norfolk County Council youth mentoring scheme.
'Dominant predator'
Summing up for the prosecution, Mr Shaw said the journalist was obsessed with young boys, particularly those in uniform, and his "perverted and deviant sexual practices" were "inextricably linked" with the charges he was facing.
He said he had spent many days in the witness box "furiously rowing against the tide", but when it came to proving his innocence he had "fallen short by a million miles".
Mr Shaw added that the evidence against Mr Souter was "overwhelming" and "crushing", repeating to the jury several times "you couldn't make it up".
"He was a dominant predator seeking to cajole young teenage boys into his world, a serial child abuser," he concluded.
Throughout the trial Mr Souter has denied being attracted to young boys and said none of the alleged incidents happened.
Defence barrister Andrew Hill said the prosecutor was a fantastic storyteller but much of it was fantasy.
His cross-examination of Mr Souter had focused on his character and sexuality and attacked his lifestyle, said Mr Hill
"My client was publically humiliated in this court," he said. "At times he was not the best of witnesses. He was argumentative, fearing the trick question."
But he said to the jury: "Do not simply write off the defendant."
Mr Hill said there had been collusion between a number of alleged victims and their delay in coming forward was significant.
Some of the allegations were "absolute rubbish", he added.
The judge will sum up the case on Tuesday.