Stephen Fry tweet sparks Norfolk pub shares scramble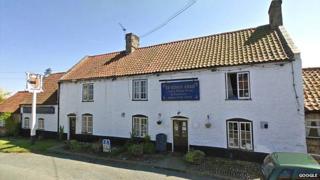 Stephen Fry has been offered "a drink on the house" after a tweet about a rural pub's plight helped draw in thousands of pounds to try to save it.
Last year The King's Arms at Shouldham, Norfolk, was the last of six pubs that once operated in the village to shut.
Residents decided to sell £150,000 of shares so people could buy and own part of the pub, but were £5,700 short three days before a funding deadline.
But the actor and writer's tweet led to a "surge" in people willing to chip in.
Fry, 56, who grew up in Booton, Norfolk, and has a house in the county, tweeted to his six million plus followers: "Shouldham's fight to save its village pub enters the final few days - good luck selling the remaining shares".
'Absolutely fantastic'
Keith Matthews, treasurer of the Save Our King's Arms campaign, said: "He tweeted on Friday and in the afternoon I got surge of [mobile] messages saying people had donated.
"We extended our deadline so we could sell as much as possible, but £5,000 over a weekend is pretty good."
People from as far away as New Zealand, Hong Kong and Canada have bought shares in the 17th Century pub, with one woman from Belgium, who "wanted to buy her own part of England", contributing £2,000 to the cause.
Now the shares have been sold, Mr Matthews believes the village is in a good position to secure matched funding from a social investment scheme to buy the pub outright.
Various charitable bodies offer social investment so communities can buy their most valued assets.
"It's absolutely fantastic - to raise that amount of money just shows how many people were behind us," said Mr Matthews.
"We didn't want it to turn into another house."
Villagers are expected to find out if the grant bid has been successful in the next six weeks.