Hemsby beach erosion: New concrete defences to save homes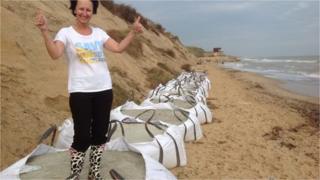 A village has invested in new concrete sea defences along a Norfolk beach in a bid to save their homes from pounding seas whipped up by easterly gales.
Gales and stormy seas have seriously eroded the cliffs and sand dunes at The Marrams in Hemsby.
One property has been condemned and a house owned by Steve and Jackie Connelly is in imminent danger.
Villagers have now installed huge concrete blocks to prevent further erosion along the base of the cliffs.
Easterly gales in March saw millions of tonnes of sand washed away and the bottoms of the cliffs eroded.
Mrs Connelly said she stood to lose everything if the sea came any closer.
"We're doing our best but we're not fully confident the house will remain on Hemsby's dunes for much longer because of the continued erosion and the effects of further storms," she said.