King's Lynn incinerator: Report recommends green light for burner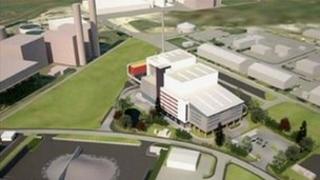 Norfolk County Council's cabinet has been advised to proceed with the King's Lynn incinerator over fears pulling out could "bankrupt the council".
The £500m energy from waste plant lost £169m in government funds this month, prompting calls for it to be abandoned.
But an independent report says this could cost £100m in penalties.
The report by the council's director of environment, Mike Jackson, and the interim head of finance, Peter Timmins, says the burner could still save money.
The incinerator has been opposed by local councils, MPs and tens of thousands of people in west Norfolk.
The protests led to the Communities Secretary Eric Pickles calling-in the planning application, which was granted by the previous Conservative-led county council last year.
Mr Pickles has yet to make a decision on whether it should have been awarded.
'Effectively bankrupt'
The burner has been put in jeopardy after the government withdrew its funding, saying national waste targets would now be met without it.
A report by Mr Jackson and Mr Timmins recommends that cabinet members should vote to continue with the project, saying that despite the withdrawal of government funds, it would still save £20m over the life of the contract, compared to the authority sending waste to landfill.
It added that rejecting it would also lead to an instant trigger payment of £20m to £30m to the developer, which would "effectively bankrupt the council".
Councillors are due to debate whether or not to carry on with the scheme on Monday, with cabinet voting on Tuesday.
Monday's full council debate can be heard in its entirety on BBC Radio Norfolk's 855 and 873 AM frequencies from 10:00 GMT.