King's Lynn incinerator: Plans backed by council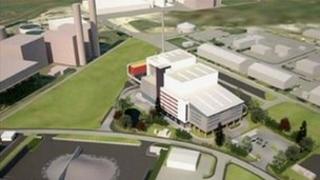 Plans to build a £500m incinerator in King's Lynn have been backed by councillors.
The energy from waste plant lost £169m in government funds this month, prompting calls for it to be abandoned.
But a report to Norfolk County Council claimed cancelling the project could cost £100m in penalties.
The council voted 40 to 38 accept the proposals for the incinerator after they were backed by officers in a report.
The report by the council's director of environment, Mike Jackson, and the interim head of finance, Peter Timmins, says the burner could still save money.
The incinerator has been opposed by local councils, MPs and tens of thousands of people in west Norfolk.
'Argued for years'
George Nobbs, Labour leader of Norfolk County Council, said he was relieved at the outcome of the vote.
"I hope and pray that this is an end to the matter because people have argued for years that the council have never had a full debate about it," he said.
"We have achieved that today. We've had a totally free vote in every political party, as far as I know. I don't think there's any doubt about the result."
He said the vote had not been about the rights and wrongs of the incinerator itself.
"The issue was whether or not to walk away from a contract and all the consequences of that - finding £30m in 35 days - and I think they made the right decision," he said.
The council's cabinet is expected to approve the decision at its meeting on Tuesday.
'Disappointment'
"Now the council has decided this way we will obviously follow the council's advice - that's democracy," said Mr Nobbs.
Communities Secretary Eric Pickles has called in the planning application for the incinerator, which was approved by the previous Conservative-led county council last year.
He could still decide to withhold planning permission for the project.
Mike Knights, vice-chairman of protest group King's Lynn Without Incineration (KLWIN), said the result of the council's vote was a disappointment.
"They had a good opportunity to get out of it today and they haven't taken it," he said.
"Effectively they have kicked the can down the road and we can fully expect that in a few months' time we will be back here, potentially with it failing planning, having very similar conversations."