Bungay club awarded £50,000 to fix 'duck puddle' pitch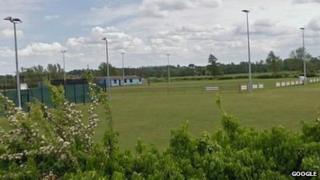 A football pitch that has suffered frequent flooding and occupation by ducks is to be levelled after a sports club was awarded £50,000 to fix it.
Bungay Town FC postponed about 30 matches last season due to the issue at Bungay and District Sports Association in Ditchingham, Norfolk.
The pitch's centre spot is lower than both goalmouths and touchlines.
Association chairman Jon Fuller said: "We have a saying that if two ducks are floating on the pitch, the game's off."
The Maltings Meadow pitch is on low-lying land near the River Waveney and has been home to Bungay Town, nicknamed The Black Dogs, since the 1950s.
Its centre circle is about 1ft (30cm) lower than each goalmouth and 3ins (8cm) lower than each touchline, meaning a large puddle regularly forms there.
'Hive of human activity'
Last season it could not be used from mid-December until early March.
Mr Fuller said there had been "up to five ducks and eight seagulls [floating on the pitch] before now".
He said the postponements had led to the team having to play games every day later in the season.
"At the end of the season when it got a bit drier, we were trying to play at least one game a night."
He said the problem had led the club to use some unusual methods to allow games to go ahead.
"About 18 months ago, we were desperate to get one last fixture in - a Bungay Charity Cup final.
"There was a still a puddle in the pitch at lunchtime on match day.
"Somebody hired a commercial vacuum cleaner and we actually vacuumed the water off.
"We still played, but it wasn't a particularly good game of football."
Mr Fuller said the grant from Sport England's Protected Playing Fields fund was great news.
He said it would allow the pitch to become "a hive of human activity again, rather than a winter resting place for ducks and seagulls".
He added that he hoped the work to level the pitch would be completed at the end of this football season.