Oompa Loompa Norwich street brawl men freed on appeal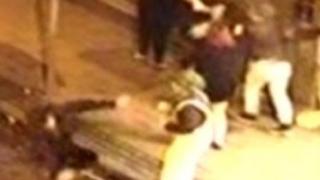 A man who attacked another man on a night out while dressed as an Oompa Loompa has been freed from custody by Appeal Court judges.
Matthew Wright, 20, was sentenced in September to 10 months' youth custody for the attack in Norwich.
But three judges cut his sentence to four months on Tuesday after accepting the incident was not part of a "significant local problem".
The decision allowed Wright to walk free, having completed his sentence.
Kebab shop
Wright, of Potter Heigham, Norfolk, was sentenced at Norwich Crown Court, after pleading guilty to affray and assault occasioning actual bodily harm.
Louis Gelinas, 20, of Sutton, Norfolk, admitted affray and was ordered to do 240 hours of unpaid work.
Both had been dressed as characters from the 1971 film Willy Wonka and the Chocolate Factory, inspired by Roald Dahl's novel.
They got into an altercation outside a kebab shop on Prince of Wales Road, Norwich, on 27 December last year.
One of the men they targeted was taken to hospital with bruising and concussion, the Appeal Court heard.
The court was also told verbal insults were hurled about the way the victims were dressed before the fight broke out.
'Late-night violence'
But Ian James, for Wright, argued the Oompa Loompas had also been insulted about their costumes.
"The assault was in part provoked and only one blow was struck, which caused a not particularly serious injury," he said.
The appeal was centred on the crown court's decision to pass a deterrent sentence, on the basis that the brawl was typical of "a local problem which required a local solution".
Lord Justice McCombe, sitting with Mr Justice Griffith Williams and Judge James Goss QC, said: "There are undoubtedly worrying incidents of late-night violence on Norwich's Prince of Wales Road, but that is not a problem unique to Norwich.
"There is no evidence that the problem is any worse there than in many cities and towns nationwide.
"We quash the sentence of 10 months and replace it with a total sentence of four months."