King's Lynn incinerator: Report clears council cabinet over contract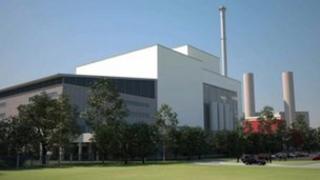 A report on a controversial waste incinerator has found no evidence that a council cabinet exceeded its authority in awarding the contract.
A barrister was commissioned to review Norfolk County Council's plans to build the £500m incinerator at King's Lynn.
In October the government withdrew £169m in funding but the authority opted to continue with the scheme.
The review found no evidence that the awarding of the contract to Cory Wheelabrator had been flawed.
The government's decision to withdraw funding prompted calls for the project to be abandoned, but the council voted narrowly in favour of continuing after a report claimed cancelling the project could cost £100m in penalties.
Jonathan Acton Davis QC was chosen by three opponents of the scheme to conduct the council-commissioned review.
In his report, he noted that the project, agreed by the previous Conservative administration at County Hall, had been controversial "on political and environmental grounds".
'No undue risk'
He said opponents of the scheme were now in the majority on the council and that some were convinced that the contract award was a consequence of "chicanery by members and incompetence by officers."
But he concluded: "I can find nothing to lead me to conclude that any undue risk was taken.
"I can identify no areas in which I can see potential scope for the holding to account of officers.
"I have seen nothing which would enable me to conclude that the cabinet exceeded its authority in authorising the contract."
Labour council leader George Nobbs said the report was "independent and thorough".
He said: "We accept Mr Acton Davis's conclusions and expect everybody else to do the same."