Labrador dog in Norfolk lifeboat rescue a 'Christmas miracle'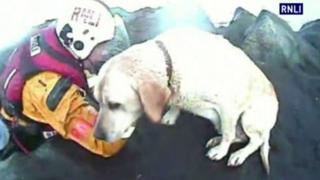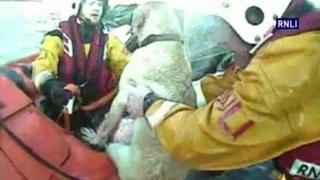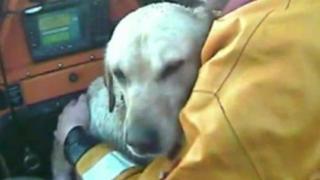 The owner of a dog saved by a lifeboat crew after being swept out to sea off the Norfolk coast has described the rescue as a "Christmas miracle".
Quila the Labrador was being walked by Mike Jenner when she was swept away by the tide while chasing a seal pup at Sea Palling on Sunday morning.
Volunteer crews from Happisburgh found the dog on rocks on a reef.
Mr Jenner said: "I never thought I'd see her again. It's amazing and we are so grateful to the lifeboat crews."
Quila, seven, and her two-year-old daughter Sunni, were being walked by Mr Jenner, from Stalham, on the beach at about 07:30 GMT when the dogs saw the seal pup in the water.
'Made our Christmas'
"I always check there aren't any before letting the dogs play, but by the time I spotted the seal, they were already in the water trying to play with it," he said.
Mr Jenner managed to get Sunni out and tied her up, but said Quila "was having none of it".
Two nearby kayakers came to help, but by this time there was no sign of the dog.
"They said they would contact the lifeboat station, and as I had been wading about for almost two hours I had to take Sunni home and break the dreadful news to Caroline, my wife," Mr Jenner said.
"Quila is a strong swimmer, but I really believed we had lost her."
The dog was eventually located by lifeboat crews on rocks on a reef about 0.5 miles (0.8km) from shore, cold and frightened, but otherwise unhurt.
Her name tag and contact details had come off her collar, but later that afternoon word reached the Jenners and they were reunited with Quila.
"She spent Sunday resting but by Monday was up and playing, and none the worse for her ordeal," Mr Jenner said.
"I still think it's unbelievable and a bit of a miracle. We called the crew and thanked them.
"On Sunday Christmas felt like it had been destroyed, but what they did absolutely made Christmas for us all."