Policemen and gardener honoured for Sandringham lawnmower bravery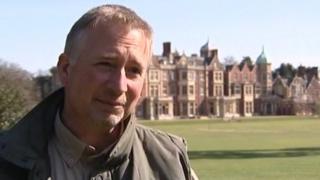 Two police officers and a gardener who saved the life of a worker at the Queen's Sandringham estate in Norfolk are being honoured for their bravery.
A man in his 30s fell into a lake while riding a grass cutter and became trapped underwater last July.
PC Keith Hunt and PC Darren Wynne rescued the man from the water with the help of head gardener Martin Woods and began CPR before paramedics arrived.
The Royal Humane Society is awarding them testimonials on parchment.
PC Wynne said saving the man's life was the "best reward" but added he and PC Hunt were "humbled to receive this recognition".
'Immensely proud'
PC Hunt added: "As soon as we found the upturned grass cutter, we went into the water to right it and free the worker who was fastened in.
"Knowing that other officers were calling for an ambulance, we started to try to resuscitate the man and used the defibrillator that we carry in our car.
"When paramedics arrived we continued to give CPR."
The man was airlifted to Addenbrooke's Hospital, in Cambridge. He was in a critical condition but has since fully recovered.
Norfolk Chief Constable Simon Bailey said he was "immensely proud" of PC Hunt and PC Wynne, who were on duty in their roles as royal protection officers.
"Without their unselfish actions, it is very likely that the man would have drowned," he said.
Mr Bailey said the man had been in the water for "a number of minutes".
"I, too, will be recognising their bravery with the award of a Chief Constable's Commendation."
The officers will also receive resuscitation certificates from the Royal Humane Society at an event in March.
The Health and Safety Executive investigated the accident but decided no further action was required.