Joshua Stadius-Horn hanging 'tragic accident', inquest hears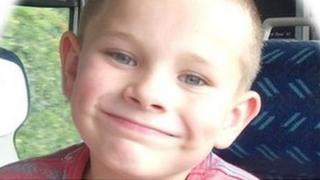 A nine-year-old boy died after hanging himself in his bedroom in a "tragic accident", an inquest heard.
Joshua Stadius-Horn, from Watton, Norfolk, and his three brothers had been sent to tidy their bedroom on New Year's Day.
Joshua was later found hanging from a bunk bed with a dressing gown cord around his neck.
Coroner Jacqueline Lake said there were no suspicious circumstances and reached a conclusion of accidental death.
The inquest in Norwich heard that Helen Stadius-Horn, the boys' mother, sent them upstairs to tidy their room at about 08:15 GMT on 1 January.
Life support machine
She went to her own bedroom, but shortly afterwards one of the boys came and told her that Josh was not helping to tidy up and was pretending to be dead.
She found Joshua hanging from the top post of a bunk bed with a dressing gown cord around his neck.
Paramedics and the police arrived and it was decided to airlift Joshua to Addenbrooke's Hospital in Cambridge.
The inquest heard evidence from Dr Diarmuid O'Donnell, a consultant in paediatric intensive care at the hospital.
He said Joshua's injuries were so severe that no treatment would have given him a meaningful chance of recovery.
His life support machine was turned off later that evening.
The coroner said Joshua's death had been caused by "catastrophic" brain injury due to hanging.
She said: "I'm satisfied that this is a tragic accident in which Joshua was not aware and did not intend the outcome of his actions."
In a statement, Joshua's parents said: "Josh was an amazing son and brother and we are all devastated by such a tragic accident.
"We love him so much and he will be very much missed."