Norwich Prison: Some inmates 'too frightened to leave cells'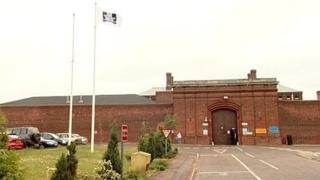 An inspection has found bullying at Norwich Prison means some inmates are "too frightened to leave their cells".
The jail was criticised in 2012 for high levels of self-harm among inmates and use of force by staff.
An inspection last summer found problems with violence and self-harm still remained, despite improvements being made.
The National Offender Management Service said the prison's progress was pleasing.
The HM Inspectorate of Prisons found in 2012 that the induction of vulnerable prisoners was inadequate and there was limited supervision by staff on some wings.
The latest assessment, carried out in July and August, found that the most vulnerable prisoners had been moved from the "threatening environment" on A Wing, with overall violent incidents and use of force by staff falling.
'Woefully unsupported'
It said the number of prisoners at risk of suicide or self-harm, whose wellbeing was being monitored, had also fallen and inmates were carrying out more activities.
But inspectors raised concerns that prisoners who were the victims of bullying felt "woefully unsupported" and some inmates were "too frightened to leave their cells", causing some to self-harm.
It added that A Wing - where prisoner induction and drug treatment takes place - was "not safe" and issues there needed to be addressed "as a matter of urgency".
Michael Spurr, chief executive officer of the National Offender Management Service (NOMS), said: "Norwich is a complex prison and I am pleased that this report acknowledges the progress it has made, which is to the credit of the governor and his staff.
"As the chief inspector points out there is more to do - and the governor has taken action to address these issues, particularly on A Wing."
The prison service added that full staffing levels had resumed after some workers were recently deployed to HMP Blundeston.