Salhouse solar farm approved by Broadland District Council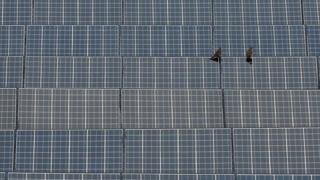 Plans for a solar farm, criticised for the "visual impact" it will have on the Norfolk landscape, have been approved by Broadland District Council.
The 20,000 panels, equivalent in area to 18 football pitches, will be erected in a field just outside Salhouse.
Broadland's planning committee voted seven to five in favour of the plans, which have been heavily criticised by people living in the area.
Developers Bellis Energy said the farm will be sustainable for 25 years.
The renewable energy site will be created on a greenfield space near Stonehouse Road in the village.
Simon Barnard, from the developers, said "We changed the size of the scheme and reduced it with the help of consultation from local residents.
"It's always very helpful to understand those concerns right from the very beginning."
'The wrong site'
Malcom Prestwood, a Salhouse resident, said he was concerned about the visual impact of the solar farm "from the conservation area and from the 14th Century church where you would be able to see these panels very clearly."
Broadland councillor Steve Buckle told BBC Radio Norfolk he was "angry" about the planning decision.
"Primarily it's totally the wrong site, we're on the edge of the conservation area of Salhouse, there is no screening and 20,000 panels of glinting glass is unacceptable in an area of outstanding natural beauty," he said.
The developers said having consulted with local people they had been able to "refine the area" so it would not have "such a visual presence from the local roads and footpaths".