Hillington Square, King's Lynn: Demolition work begins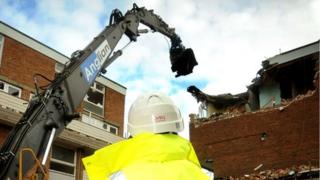 Demolition work has begun on a block of flats as part of a £30m scheme to regenerate a Norfolk housing estate.
The five-storey building forms part of Valentine House, in Hillington Square, King's Lynn.
Work to regenerate the 1960s estate began last August after plans by designer Wayne Hemingway were approved.
The scheme is scheduled to last four years and will see the estate remodelled and its 320 flats improved externally and internally.
A former road, Union Street, will also be reinstated and spaces will be made for firms and community enterprises.
Tony Hall, chief executive of Freebridge Community Housing, which owns the complex, said: "The opening up of the estate with this demolition is a very exciting part of a redevelopment that will make a real difference to the area and the town of King's Lynn as a whole."
Tony Tann, regional director of contractor Lovell, said: "This is a significant moment in the transformation of Hillington Square.
"The demolition of part of Valentine House will have a major impact on the way the estate looks and make a real difference to the local street scene."