Royal Norwich Golf Club members back housing plans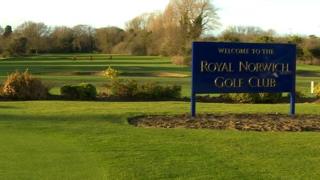 Plans to move the Royal Norwich Golf Club (RNGC) to a new course and build up to 1,000 homes on its current site have been backed by its members.
The proposal to relocate the 120-year-old club in Hellesdon to Weston Park, near Lenwade, was voted for by 81% of its members on Friday.
It follows an agreement with a housing developer and leisure group.
The new course at Weston Park could be opened by late-2017, subject to planning permission being granted.
Club captain Adrian Myhill said: "It's tremendous to see an 81% majority of members supporting the resolution to take this opportunity forward.
"We want to create a club that is family friendly and have something… that is a destination where they will want to go with their families at any time."
The club said funds arising from the move to the 300-acre site could secure its future for 120 years.
Developers Persimmon Homes will seek planning consent for up to 1,000 houses on the 120-acre site at Hellesdon, along with a conditional purchase agreement to acquire Weston Park from Banham-based leisure group Goymour Properties.
Managing director Martin Goymour said: "The project, upon completion, will benefit members at both clubs and enable Weston Park to be transformed into Norfolk's premier golf club."
Persimmon Homes said it would be "consulting" with local people on the proposals.