Norwich group claims traffic plan threatens listed homes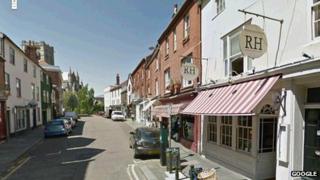 A campaign group has failed to obtain a judicial review of a planned traffic scheme for Norwich.
The city council wants a new layout to improve traffic flow and access for buses in the city centre.
Chapel Field Action Group, whose members live in city centre listed buildings, alleged the city and county councils did not consult widely enough.
Judge Elizabeth Cooke at London's High Court rejected this argument and said the group's claims were "unrealistic".
Peter Jackson, who lives in Upper St Giles Street, spoke for the group.
Ian Dove QC argued on his behalf that the schemes were planned for an "environmentally sensitive" conservation area with a significant number of listed buildings.
Mr Jackson said the noise and vibration of an endless flow of heavy vehicles would threaten the foundations and fabric of some of the most attractive and historically important homes in the city.
Judge Cooke said traffic on the most sensitive part of the scheme in Chapel Field North would be reduced by 25% as it would become restricted to buses and heavy goods vehicles.
'Unrealistic' complaint
Mr Jackson argued the councils had failed in their European law obligation to carry out full "screening" investigations.
But the judge said there was "nothing in these two schemes of relatively minor traffic management to bring them within the scope of the European Environmental Impact Assessments Directive".
Although Mr Jackson clearly "disagreed" with the council's conclusions, his objections had been "thoroughly aired and considered" during consultation, she said.
Mr Jackson also argued a new partial bypass north of the city, which the councils said would reduce traffic, might never happen and this should have been included in the model.
The judge said this complaint was simply "unrealistic".
Harriet Townsend, for Norwich City Council, argued the judicial review challenge unjustifiably delayed a well-publicised and beneficial traffic management scheme.
The two councils in a joint statement said the decision cleared the way to the scheme to go ahead.
The Grapes Hill bus lane would be in addition to the two existing general traffic lanes.
All traffic except buses will be removed from Rampant Horse Street and Chapel Field North would be redeveloped for two-way traffic by removal of the southern pavement.
Little Bethel Street would be closed to vehicles, with Cleveland Road and Bethel Street becoming two-way.