King's Lynn workers find child's bones near minster church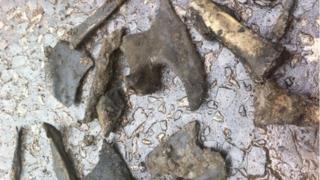 Workers replacing a gas pipe in the marketplace of an historic Norfolk port town have uncovered a child's bones believed to be about 1,000 years old.
National Grid said part of a pelvis, fingers and other bones were found in Saturday Marketplace at King's Lynn.
The work was stopped while police investigated the discovery.
The bones are thought to date from the time nearby St Margaret's church, now King's Lynn Minster, was built by the 12th Century Bishop of Norwich.
The bones were taken away for examination and are expected to be reburied in the churchyard later.
Work has now resumed and a National Grid spokesman said: "Although not an everyday occurrence, we do occasionally find bones in the excavations we dig, whilst replacing gas pipes.
"Proper procedures were followed and the relevant authorities dealt with the situation quickly.
"Although only a rough guess, the bones were thought to be from the time of the church was built around the 1100s."