Trapped Sandringham gardener Lee Abel thanks lake rescuers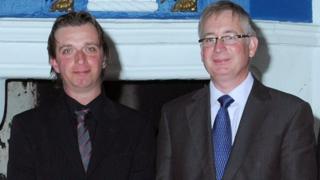 A gardener who was almost killed in an accident on the Queen's Sandringham estate says the people who saved him are "unbelievable".
Lee Abel, 33, was trapped underwater for several minutes when the lawnmower he was riding on fell in to a lake at the Norfolk estate, on 8 July.
Speaking publicly for the first time, Mr Abel thanked his rescuers - two police officers and his manager.
"I owe them so much," he said. "It is so hard to describe how I feel."
Mr Abel was airlifted to Addenbrooke's Hospital, in Cambridge, and was there for a month before he was discharged.
He still suffers from "extreme fatigue" but is on his way to a full recovery, Norfolk Police said.
PC Keith Hunt, PC Darren Wynne and head gardener Martin Woods helped Mr Abel from the water. The officers began CPR before paramedics arrived.
Mr Abel said he could not remember the incident.
"The first I knew about it was when I was told by friends and family in hospital," he said.
"It was as if someone had told me a story and it was hard for me to recognise that it was actually about me."
The men's actions have been recognised by The Royal Humane Society.
A Health and Safety Executive report said the estate's safety documentation was out of date, and that Mr Abel may have escaped had the machine's protective roll bar been in use.