Bawsey swim death pits development plan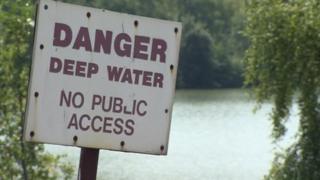 Sand pits in West Norfolk where two men died last July could be developed as an amenity for local residents.
Ryan Pettengell, 41, from King's Lynn, and Umar Balogun, 16, from London drowned in a lake at Bawsey Pits.
They were among thousands who swim, sunbathe or walk in its woodland every summer. But the site has also been used for drug taking and prostitution.
Sibelco, the owner, is now seeking ideas to develop the site as an amenity for water sports and other activities.
Swimming in the lakes, which are deep and thick with undergrowth, is banned, but warning signs and security staff are ignored, police said.
Sibelco locked the gates to prevent access after the two deaths and several outbreaks of anti-social activities involving drugs and prostitution.
"We are hoping now to get a range of ideas from local people to create a plan for a sustainable and secure amenity," Sibelco chief executive Gary Stringer said.
Clean up needed
A "think-tank" had recently come up with several suggestions and a questionnaire had been produced to discover the opinions and preferences of local people.
The site could be developed as a tourist amenity with sailing, water sports, lakeside chalets or as a riding and biking centre,
"We want as many people as possible to fill in the questionnaire to get lots of ideas," Mr Stringer said.
"The questionnaire is available online and copies have been distributed to pubs, libraries and schools."
West Norfolk councillor Alistair Beales recently held a public meeting on the future of the pits which about 50 people attended.
"They wanted the area cleaned up and made secure from anti-social behaviour," he said.
"They had also put up with the mineral extraction operations and now want to see it developed as an amenity.
"Sibelco are interested in developing a plan that a commercial organisation can take on."