Downham Market fire station blaze challenged investigators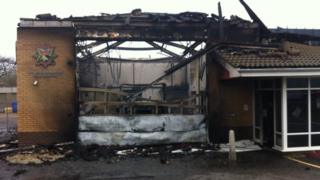 An investigation into the cause of a blaze that destroyed a Norfolk fire station was a "challenge" for experts.
The Downham Market station housing a £250,000 fire engine was so damaged a forensic investigation was needed.
Norfolk fire service called in specialists who said finding the cause of the fire had been difficult but had not proved impossible.
The independent experts and Cambridge fire service are now compiling a report that will be available soon, they said.
Since the fire on 11 March investigators have been collecting and filtering evidence so they could pinpoint the ignition site.
Head of community safety for Norfolk Stuart Horth said the fire had created concerns.
"Checks have been made at other fire stations to identify potential risks and all were registered as safe," he said.
The Downham Market blaze is believed to have started during the night in the bay where the fire engine was parked.
The fire station, built in 2006, had no sprinkler system.
Norfolk Fire Service will now purchase the best replacement fire engine possible for the one destroyed.
Meanwhile, fire crews have set up a temporary base at the local police station.
The local community has been assured that fire service cover has been maintained from Downham Market.