Horsey Windpump: Sails removed for refurbishment work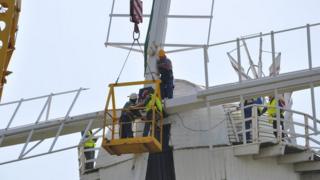 The sails of a windpump on the Norfolk Broads, damaged during the winter storms, have been removed by a crane so repairs can start.
Horsey Windpump, near Martham, is to have four traditional sails reinstated, replacing the ones installed in 1987.
Harsh weather and water leaks have also caused timber to rot on the 15m (49ft) high landmark's cap and beams.
Built in 1912, the sails will be down for some time but the windpump should reopen to visitors in early May.
The five-storey National Trust property has been closed since December.
National Trust building surveyor Paul Coleman said: "From the outside it looks pretty - it's one of the iconic buildings for the Norfolk area.
"But when you dig deep, and we have been digging deep with our investigation work, you find out that the beams are starting to rot, the timbers are failing and chunks are coming off the building."
Windpumps resemble windmills and are dotted across the Broads as they were efficient at draining land for farming.
Further work to examine the state of the building's fabric is to take place before its cap is removed and repaired at ground level either later this year or during 2015.