'Largest' model railway with miniature worlds opens in Wroxham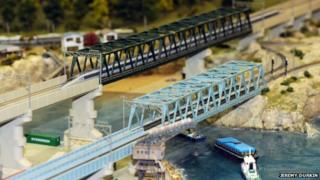 An exhibition of model railways covering the area of a football pitch and believed to be one of the largest in the UK is due to open in Norfolk.
Created by model train enthusiast Sean Green, 45, the attraction features fully landscaped miniature worlds.
The attraction had been due to open in September 2013 but a fire in an adjacent building caused smoke damage to some of the layouts.
Wroxham Miniature Worlds is open to the public on Wednesday.
"When we started building the layouts in February 2012, we didn't realise how big the project would become," said Mr Green, who is from Norwich.
"We quickly found that we were clearing out UK stocks of many items, then the European stocks and eventually we had to have many items manufactured especially for us."
But Mr Green said the fire had set them back.
"We were literally just a few months from opening when the fire broke out," said Mr Green, who admitted the project had "consumed him" and that he had had a passion for model railways stemming from childhood.
"The damage meant that we had to reschedule everything," Mr Green added.
"Now we have a tiny fire station and firefighters on every layout just in case."