Hemsby party death: Connor Barrett died of stab wound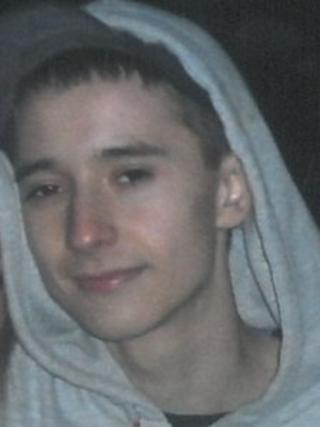 A man who was killed at a 21st birthday party in Norfolk died from a stab wound, tests have revealed.
Police were called to The Glebe in Hemsby at 23:25 BST on Saturday.
Connor Barrett, 20, from Great Yarmouth, died in hospital after being attacked in his chest and back at the party.
Five boys, aged 16, two of 17, two of 15, and an 18-year-old man, all of whom are from the Great Yarmouth area, have been arrested on suspicion of murder.
They are currently being questioned by police.
Several would-be gatecrashers arrived at the party and there was a scuffle, BBC Look East correspondent Kim Riley said.
The mother and grandmother of the man whose birthday was being celebrated had both worked as nurses and tended to Mr Barrett's injuries before an ambulance arrived.
Christine Squirrell, the man's grandmother, said: "It was horrendous and there was mass hysteria here at the time."
Neighbour Valery Lyhane said she heard "a lot of noise and screaming with cars racing up and down".
Magistrates have granted police an extension until Tuesday afternoon to continue questioning four people arrested shortly after the incident.
The 17-year-old boy was arrested on Monday afternoon.
Det Ch Insp Paul Durham said: "This is believed to have been an isolated incident at a private party where the vast majority of people were known to one another.
"We are pursuing a number of lines of inquiry including continuing to piece together the events leading up to Connor's death and working to identify and speak to those present during the evening."