Wymondham cars stuck in floodwater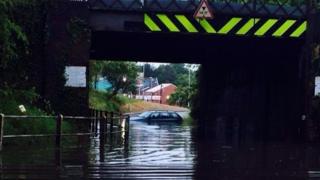 Two cars became stuck in floodwater after heavy rain overnight in Norfolk.
A dip in Station Road, Wymondham, under a railway bridge, became filled with water at least 2ft (60cm) deep.
A car became stuck early on Thursday, with another vehicle becoming stranded at about 08:00 BST, police said.
Warnings and a cordon were put in place and officers helped rescue both vehicles. Norfolk Fire and Rescue Service pumped out the water at 08:30 BST.