Norwich 1996 rape accused Peter Carroll 'traced by DNA'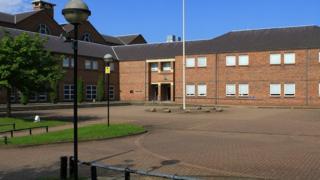 A man accused of raping and attempting to murder a woman 18 years ago was eventually identified from a scrap of DNA, a jury has heard.
Peter Carroll picked up a prostitute in 1996 and choked her half to death, prosecutors told Norwich Crown Court.
A small amount of skin became lodged under her fingernail as she tried to defend herself, the jury heard.
Mr Carroll, 55, of Aylesbury, Bucks, denies attempted murder, actual bodily harm with intent and rape.
The court heard the woman was left unconscious and was extremely distressed by the "brutal attack".
Opening the trial, prosecutor John Farmer said: "Technology at that time meant it was not possible to get a useful DNA result off that fragment.
"In practical terms the file was put to bed - it was a completely cold lead."
Years later, Mr Carroll, who had previously lived in Beccles, Suffolk, where he worked as a Hotpoint engineer, was arrested and cautioned for an unrelated assault and a DNA sample was taken.
'Extremely violent'
Last year, police re-examining the case linked him to the 1996 offence.
The court heard Mr Carroll, of Barnsbury Avenue, accepted he was responsible but claimed he acted in self-defence after the woman attacked him.
Mr Farmer added that Mr Carroll had initially acted normally with the woman after arranging to pay her £30 for sex.
But after they drove to a remote spot he suddenly became "extremely violent".
He added that Mr Carroll had a "deviant sexual obsession" with the idea of having sex with a dead or unconscious woman.
Mr Farmer told jurors: "You will hear that he went on having sex with her into unconsciousness."
The prosecutor added that Mr Carroll had been married three times and would speak openly about his use of prostitutes.
"He told people he had killed somebody and had to live with that," Mr Farmer added.
"We say that in effect was a confession because he had left her for dead.
"But he has gone away and got on with his life."