Flood-hit Norwich 'had month's rainfall in one day'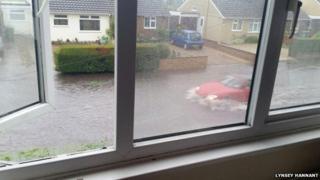 Nearly a month's rainfall in one day led to localised flooding, causing problems for homes, businesses and roads across Norwich on Tuesday.
The fire service was called to more than 25 incidents and two nightclubs had to be pumped free of water.
Water levels reached 5ft (1.5m) in the basement of Mercy in the city.
Anglian Water said it had drafted in extra staff and some drainage systems had been "overwhelmed" by the deluge.
Spokesman Anthony Innes said: "The average rainfall for May is 50mm but last night some places have received nearly their full month's quota in just one day, with Norwich hit particularly hard.
"While the rain is continuing, it's less intense and we have drafted in extra manpower, with staff working their days off to make sure our network and pumps continue to work as they're designed.
'Cavalry came in'
Mercy general manager Toby Middleton said the water pipes couldn't handle the amount of water.
"We were up to nearly three to four feet and then it just started getting higher in places but we were able to control it - then lo and behold the cavalry came in, by which point it was up to 5ft (1.5m)," he said.
Flood water in sewers raised a drain cover near St Stephen's roundabout in the city and trapped a car wheel.
Traffic was brought to a standstill for nearly an hour as firefighters tried to free the vehicle.