Bryan Greenhalgh jailed for life for sex abuse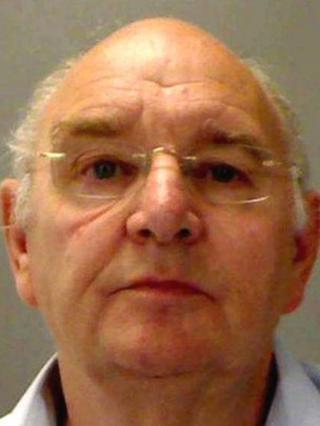 A "dangerous" former school principal who abused eight boys over a period of 10 years has been jailed for life.
Bryan Greenhalgh, 63, indecently assaulted boys at Sheringham Court School in Norfolk and Thurlby Manor in Lincolnshire in the 1970s and 80s.
Norwich Crown Court heard one victim described the abuse as "incessant".
One victim's impact statement said: "You are damaged and you damaged me. You are evil and you don't belong in society."
Judge Nicholas Coleman Greenhalgh he must spend at least three years in prison, after which he will only be released if he is considered low risk.
If released, he will be on licence for life.
His sentencing on Monday can now be reported following the outcome of another case involving one of his former colleagues at Sheringham Court School.
Kenneth Wells, 76, of Bracken Dale, Leicester, was convicted of three counts of indecent assault against a boy in the 1970s and jailed for six years. He was cleared of four other indecent assault charges.
The court heard Wells was a "house parent" at Sheringham Court School.
'Special attention'
Greenhalgh, from Suffield, Norfolk, had previously admitted 13 counts of indecent assault and one serious sexual assault.
The offences spanned the period between 1976 and 1986 and related to seven boys aged between 12 and 15 and another boy Greenhalgh met through a Christian fellowship in Norwich.
Sheringham Court School was described at the time as a boarding school for "unruly" boys, with co-owner and vice-principal Greenhalgh in charge of the boys' care at night and at weekends, the court heard.
One victim said Greenhalgh repeatedly came into his dormitory at night smelling of alcohol and would indecently assault him.
The boy was also assaulted by Wells, who told him it was "normal" and "not to speak out". When the boy complained to the school nothing was done, the court heard.
All five Sheringham Court victims described a similar experience of indecent assaults by Greenhalgh after they had gone to bed.
'Misery and self-loathing'
Greenhalgh went on to abuse two boys at Thurlby Manor, where he was principal and had a residential care role, and a boy aged 12 to 14 in Norwich.
The court heard Greenhalgh was given a three-month prison sentence in 1983 for indecent assaults on three boys at Thurlby Manor.
Both Thurlby Manor and Sheringham Court are now closed.
Judge Coleman said: "You could have confessed your crimes then and been dealt with."
He added: "You cannot understand the untold harm you have done to these boys as they have gone into adulthood.
"It's clear they have suffered severe psychological harm. You are a dangerous person."
While sentencing Wells, Judge Katharine Moore said the victim had had his "childhood stripped from him in a gross and violent way" and he had gone on to suffer "misery and self-loathing".
She added: "Your duty was to protect vulnerable children but instead you exploited that for your own sexual gratification."