Car careers into Golden Star pub in Norwich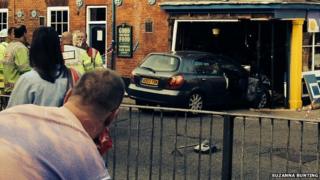 A man who saw a car plough into a Norwich pub has said he was "amazed" no-one was killed.
People were sitting outside the Golden Star pub in Duke Street at about 16:30 BST on Friday when the car with three people inside crashed through a window.
Witness David Turnbull said the scene was "horrendous" as bystanders rushed to help people out of the smoking car.
Police said one person was treated for a minor injury and two busy roads had to be shut for nearly four hours.
They said an inquiry into what happened had started and the driver was a man in his late 30s.
'Horrendous'
Mr Turnbull was sitting outside the pub with his wife Rita.
"It was amazing no-one was seriously hurt or killed," said Mr Turnbull.
"If the car had gone slightly to the right it would have hit Rita and I and if it had gone slightly to the left, it would have hit some people having cigarettes.
"There was just one chap sitting at the bar who saw the car and wall coming towards him and he was slightly cut on his leg."
Mr Turnbull said the car had "clipped" railings before hitting the building.
"It was horrendous, there was smoke coming from the car, which turned out to be powder from the airbag.
"People were trying to make sure that everyone had got away from the car."
Police said a structural engineer visited the pub, which is now boarded up, on Friday evening.