Norfolk PCC Stephen Bett, who stepped aside, returning to work
A police commissioner who stepped aside during an inquiry into his expenses said he was returning to work to avoid a costly "legal wrangle".
Police are investigating mileage claims made by Norfolk Police and Crime Commissioner Stephen Bett.
Norfolk Police and Crime Panel met earlier to discuss issues surrounding Mr Bett's position.
Before the meeting, Mr Bett said he was returning because of the "grey area" of law on whether he can step aside.
In a statement, he said when the Independent Police Complaints Commission (IPCC) decided to investigate his expenses he decided to step aside "knowing that I had the safest pair of hands possible in my deputy Jenny McKibben".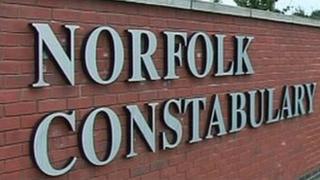 What do PCC's do?
• Appointing chief constables and dismissing them when necessary
•Holding the chief constable to account for police performance
•Providing a link between the police and communities, which includes consulting local people, the council and other organisations
•Overseeing community safety and the reduction of crime, and ensuring value for money in policing
•Setting out a force's strategy and policing priorities
•Setting out the force budget and community safety grants
•Reporting annually on progress
He said: "I have read the report and legal advice to the panel and considered it extremely carefully. It is obvious to me that there is a grey area within the legislation when it comes to a PCC stepping aside or taking a leave of absence and legal opinion seems to differ.
"It is abundantly clear to me that unless I return to full duties there is a significant likelihood of a protracted and expensive legal wrangle and I am not prepared to burden the Norfolk taxpayer with a substantial legal bill.
"Taking all this into consideration, I have decided that the best course of action is for me to return to full duties on Monday.
"This is not a decision I wanted to have to make, but I recognise I have to reach a legal position which satisfies the panel in order for us to move forward."
Mileage expenses
The meeting had been due to discuss Mr Bett's future but his decision to return to his role meant that did not happen.
Mr Bett paid back more than £2,700 for his trips between home and work after the BBC revealed he had claimed more than £3,000.
He said in June he would temporarily step aside with "huge reluctance".
In November, the BBC revealed Mr Bett had claimed for 96-mile round trips from his home in Thornham, near Hunstanton, to police offices in Wymondham.