Norwich toddler Trinity Coward was 'a sparkle in the room'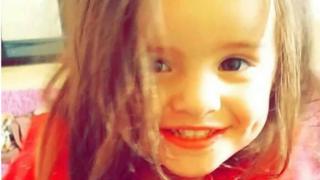 A toddler who died after a fireplace fell on top of her at her family's Norfolk home has been described as "a sparkle in the room".
Two-year-old Trinity Coward was seriously injured by the fire surround at her home in the Lakenham area of Norwich on Sunday.
She later died from her injuries in hospital.
Sharon Robinson, a close friend of the family, said they were "completely heartbroken and torn".
Mrs Robinson described Trinity as "a beautiful, smiley little girl" who loved "Peppa Pig, playing with her brother's cars and bright pink stuff".
She said: "When you walked into the room, she was a sparkle in the room, she was full of cuddles and she was their little princess - especially her father's."
Mrs Robinson added that Trinity's parents, Shaun and Kelly Coward, had received "really amazing support from friends and family" and wished to thank everyone for "the personal messages, visits, food, flowers and plants".
Meanwhile, well-wishers have donated more than £2,500 in less than 24 hours after a fundraising page was set up to help pay for Trinity's funeral.
The page was set up with a target of raising £1,000 but almost 290 people have already contributed, exceeding that amount.
Mrs Robinson said: "The family want to thank everyone for their generosity [with] the amazing fundraising done so far for Trinity's fund."
She added that Mr and Mrs Coward are urging others to "check the surroundings in your home" and "don't let it happen to another child".
The death is not being treated as suspicious.
An inquest into her death will be held at a later date.