New Zenos E10 sports car to create jobs in Norfolk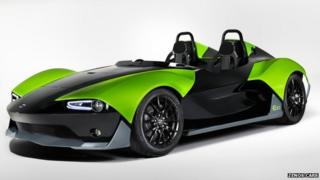 A new £1.2m project to produce a new sports car in Norfolk is set to create 24 new skilled engineering jobs, it has been announced.
Zenos Cars, at Wymondham Business Park, is producing the car, with the help of a £240,000 grant from New Anglia Local Enterprise Partnership (LEP).
The E10 car is a light-weight sports car which will sell for about £25,000.
Production will start at the end of the year with the first cars ready for delivery in early 2015.
Ansar Ali, co-founder and director of Zenos cars, said: "The E10 is the culmination of two years of hard work. We had already secured private investment, but we needed additional funds to bring the car to market. We applied to the LEP and were successful in our bid.
"It's very pleasing to know there was real confidence in our business model and it is great that we can design, manufacture and employ staff for an innovative product right here in Norfolk."
Chris Starkie, managing director at New Anglia Local Enterprise Partnership, said: "It's great to see our business growth funds supporting local entrepreneurs and encouraging them to thrive and expand."