Norfolk crash pensioner 'like F1 driver'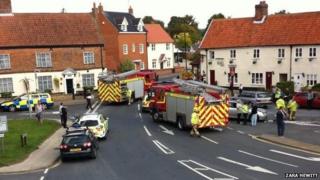 Six cars, a bicycle rack, a fence and hedges were damaged by an out-of-control driver in a Norfolk town.
The elderly man reversed his Volvo into one vehicle "like a Formula 1 car leaving the grid", before smashing into others at The Green in Acle on Wednesday, witness Kevin Chaney said.
"The poor old boy was probably scared out of his mind," he added.
No-one was injured or arrested but Norfolk Police said there was "significant damage" to the six cars.
'Careered through fence'
Mr Chaney, who works opposite The Green, said he did not see the first vehicle being hit but "became aware of screeching tyres".
"I saw this chap going backwards like an F1 car leaving the grid. He smashed into two cars so hard they were pushed over the pavement and on to the road," he said.
"Then he put the car into forward gear equally fast, clipping one car which hit two others before he careered through a fence and ended up in a bush.
"None of the car owners seemed angry with him; some of them put their arms around him to see if he was fine, and another person brought a chair out for him," Mr Chaney added.
Norfolk Police confirmed they were called to "reports that a car had been in collision with six vehicles, a pedal cycle stand and the wall of a property before coming to rest".
Investigations are continuing, a spokesman said.