Father warned Ofsted of 'tip-off' a year before inquiry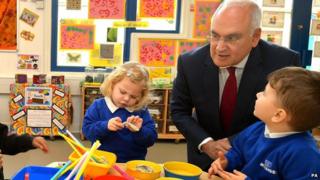 The father of a pupil at an academy being investigated over claims it was tipped off about an Ofsted inspection says he warned authorities a year before an inquiry was launched.
Ian Harris, whose daughter attended Ormiston Victory Academy, Norwich, told Ofsted that pupils had been told about the inspection the previous week.
Another parent claims a separate school coached pupils for an inspection.
Ofsted said if evidence comes to light it will take action.
Last month Ofsted said Sir Robin Bosher, its director of quality and training, would carry out a review of the circumstances of the specific inspections and also the wider handling of the sharing of information about Ofsted's inspection schedules.
Father-of-four Mr Harris, who is an estate agent, made his complaint to Ofsted in May last year, the day after the inspection at which the academy was rated as "outstanding".
"My daughter came home from school on the Thursday and said that Ofsted were expected in the school during the next week. She knew because an ICT lesson had been cut short for a year assembly and they were told that Ofsted would be coming in and how their behaviour would be expected," he told BBC Look East.
"I felt that they perhaps didn't look at the detail of my claim. Their stock reply felt fairly generic. I wasn't prepared to take it further.
"It is patently unfair if one school gets advance notice warning and can prepare themselves and their lessons and prepare the pupils. It doesn't give a very good message to the children that you can circumvent the system."
Two parents at Thetford Academy have also told the BBC how their children were briefed by teachers on how to dupe the inspectors with a classroom ruse.
One parent Jenni Bailey said: "My daughter came home from school and explained that they had had an assembly telling them they were due an Ofsted inspection.
"They were told in their lessons if they had an inspector arrive that if they were asked a question they had to put their hands up regardless whether they knew the answer - left hand if they didn't know; right hand if they did know."
Last month, following anonymous allegations in the Observer, Terry Jermy, a county councillor in Thetford, revealed that he had been told by Thetford Academy parents about an early inspection tip-off.
Adrian Ball, executive principal at Thetford Academy, said: "It would seem incredible for any class to have put up all of their hands at once. If that was seen by an inspector that would have raised further investigation at the time of the inspection which it wasn't.
"I am not saying it is made up but to my knowledge nothing was said in this manner."
The Inspiration Trust, which runs Thetford Academy and Great Yarmouth Primary Academy and whose chief executive is Dame Rachel de Souza, has denied any knowledge of the inspections ahead of the normal half-day notice.
The Ormiston Academies Trust has said it has never been given advance warning of Ofsted inspections beyond the usual half day.
Dame Rachel has declined BBC requests for an interview.
In a statement, head of Ofsted, Sir Michael Wilshaw, said: "If any evidence comes to light that proves anyone within Ofsted or our contractors has shared information inappropriately, I will have no hesitation in taking the strongest possible action."
The BBC has spoken to a number of Ofsted inspectors who took part in some of the visits under review.
They would not be interviewed, but confirmed nothing irregular was spotted at the academies. They said it would be unfair if the schools received advance notice.
The organisation said: "Ofsted regional director Sir Robin Bosher is reviewing the circumstances of specific inspections in Norfolk and the wider handling of the sharing of information about inspection schedules. He will report back shortly."