Go Go Dragon statues revealed ahead of 2015 art trail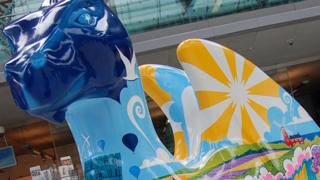 The first dragon statues to be painted for an art trail around Norwich next year have been unveiled to the public.
The Go Go Dragons event is the follow-up to last year's Go Go Gorillas trail, which raised more than £270,000 when the figures were auctioned.
East Anglian charity Break will put around 70 individually painted dragons on show from 21 June to 5 September.
In 2013 a gorilla figure, decorated as pop star Freddie Mercury, had to be repainted after a copyright complaint.
Despite the furore, its artist Mik Richardson was again asked to design one of the 1.5m tall (5ft) glass fibre dragons revealed at The Forum in Norwich.
Break runs children's homes in Norfolk and Cambridgeshire and short breaks for children with disabilities.
Senior fundraising officer Molly Housego said: "There will be 70 dragons on the streets in Norwich and further afield in places like Cromer and Sheringham.
"A survey after the gorilla trail showed not only did Break benefit, but people enjoyed it and saw parts of Norwich they might not have seen and spent money in shops and cafes.
"The money raised meant we were able to invest in more projects like mentoring and helping children with disabilities as well as their siblings and carers."
Dragons are a feature of Norwich's historic architecture and there are churches dedicated to Saint George in Tombland and Colegate - with many dragon motifs.
Applications for artists and community groups to submit designs are open until early November.