Hunstanton honours USAF squadron for 1953 floods rescue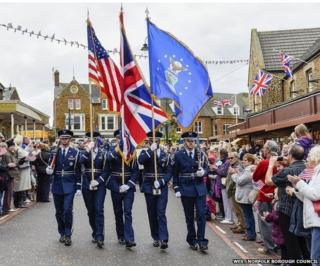 A US Air Force unit that saved lives during the East Coast floods of 1953 has been granted the Freedom of Hunstanton in Norfolk.
The 67th Special Operations Squadron (SOS), now based at RAF Mildenhall in Suffolk, was honoured in a ceremony in the town earlier.
About a thousand people watched the unit parade through the seaside town.
One member of the squadron, 22-year-old Reis Leming, saved 27 lives during the devastating floods.
His family was also awarded the freedom of the town.
They received the honour at a private ceremony in tribute to Mr Leming, who died in 2012 and was the first non-Briton to be awarded the George Medal for bravery in peacetime.
In total, more than 60 people died on the stretch of coast between Hunstanton and King's Lynn.
Town mayor Carol Bower said: "So many lives have been shaped by the devastation of the 1953 flood and it has left an indelible mark on our community."
She presented the freedom scroll to Lt Col John Peak, commander of the current day 67th SOS, now assigned to the 352nd Special Operations Group. He said the event was "a highlight in his career with the USAF".
At the time of the floods, the unit was called the 67th Air Rescue Squadron and based at RAF Sculthorpe, Norfolk.
Ms Bower said the event remembered those who did not survive, honoured the bravery of the US servicemen, and celebrated "the lasting friendship between the modern squadron and the town".
A man whose family was saved in the floods paid tribute to the airmen who came to their rescue.
Neil Quincey, 89, from Hunstanton, recalled a "solid wall of water" washing through the seaside town after raging sea water breached defences on 31 January.
He lived on South Beach Road, one of the worst-hit areas. His was the only complete family from the neighbourhood to survive the disaster.
Water burst through the door of his house, leaving his wife, Betty, and children, including their nine-month-old son, knee-deep in water and unable to escape.
Mr Quincey said: "It was pitch dark, gale blowing; the spray from the waves was like a handful of shingle in your face and the noise... it was difficult to hear each other at all."
A taxi driver, he had been away from the town for much of the day. When he returned he found the SOS team preparing to launch an amphibious vehicle and was allowed to join its American rescue crew.
However, it capsized, throwing all six occupants out.
All managed to cling to the balcony of Mr Quincey's house, but the boat was lost leaving the six men, Mrs Quincey and the children stranded for the night.
He said: "The trauma is something that never goes away. People were in shock, neighbours had gone, people didn't talk about it. For months, they avoided each other."