North Norfolk pair sentenced over 'emaciated' animals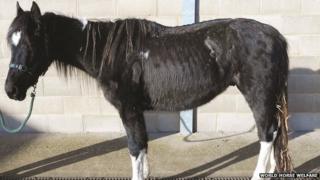 A man and a teenager have been sentenced for animal cruelty offences, after emaciated horses, donkeys and dogs were found at sites across north Norfolk.
David Bickell, 45, of Burnham Road, North Creake, admitted 14 charges and was sentenced to four months in prison.
Described as "not fit to be anywhere near animals", Mr Bickell was also banned from keeping them for 15 years.
A 17-year-old boy was fined £85 after admitting 13 charges.
He was also given a six-month referral to the Youth Offending Team.
Norfolk Trading Standards and the RSPCA brought a joint prosecution against the pair following a call from a member of the public to World Horse Welfare in December 2013.
Jack Jackson, from World Horse Welfare, said he found a number of animals in "an emaciated condition".
A number of horses and ponies were later removed from the site and taken to a re-homing centre.
"The condition these animals were found in was truly terrible," said Mr Jackson.
One colt had to be put to sleep "for welfare reasons" after he was rescued.
"The worrying thing is that it did not just involve equines, the very low standards also applied to pigs, cattle and dogs," Mr Jackson said.
Mr Bickell will not be able to appeal against his disqualification from keeping animals for ten years.