Hannah Witheridge's family 'traumatised' by Thailand photos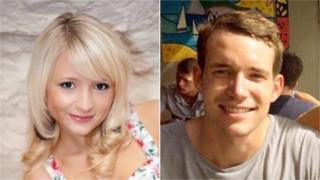 The family of a woman murdered in Thailand have been "traumatised" by photos being circulated online.
The bodies of Hannah Witheridge, 23, from Hemsby, and David Miller, 24, from Jersey, were found on a Koh Tao beach.
Miss Witheridge's family said "senseless" photos of the crime scene had added to their agony.
"We beg that Hannah and David are afforded privacy and dignity through the removal of these pointless and insensitive reminders," they said.
The family said a funeral on Friday would be a private party to celebrate her life.
"Time makes the pain of this horrendous tragedy no easier to bear," they said in a statement.
"The past three weeks have been unimaginably difficult and there are no words that can adequately describe the heartache and despair that our family is experiencing.
"Hannah was a fun, vibrant and beautiful young woman who will be sorely missed by all who knew her."
Two Burmese workers, whose names were given only as Saw and Win, are said to have confessed to killing the pair, who were discovered on 15 September.
Deputy police chief spokesman Col Kissana Phathanacharoen said the two suspects, both aged 21, had been charged with three offences; conspiracy to murder, conspiracy to rape, and robbery.