Prisoner hurt in Norwich jail cell blaze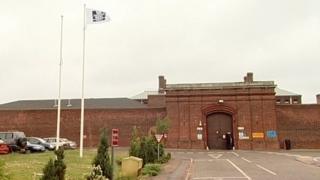 A prisoner had to be dragged unconscious from his cell after starting a blaze, according to an internal prison report seen by the BBC.
The inmate and a prison officer at Norwich jail were taken to hospital suffering from smoke inhalation, the Prison Service confirmed.
A second officer was treated at the jail's hospital for burns to their arm.
A Prison Service spokeswoman said the two people taken to hospital were discharged later the same day.
"We take the safety of our staff and prisoners extremely seriously," she said.
The fire service attended the blaze on 6 October, said the Prison Service.