Norfolk floods: County council approves eight projects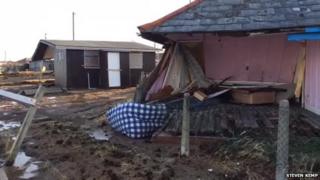 More than £1.3m has been raised for sea defence schemes and coastal repairs after the tidal surge that hit the Norfolk coast last winter.
The largest project, worth nearly £700,000, will fund flood bank repairs on the North Norfolk Coastal Path.
Eight schemes, worth £1,362,250, have been approved by Norfolk County Council which is contributing £250,000.
However, a £367,000 scheme at Scratby and seawall improvements at Sheringham costing £315,000 were turned down.
Geoff Freeman, chairman of Scratby Parish Council, said the people of the village would be very disappointed.
"We raised money to get match-funding, but the Environment Agency turned this down because we had chosen untried technology," he said.
Repairs to the flood bank at Titchwell Marsh bird reserve, costing £263,000, will go ahead with finance from the RSPB and Natural England.
Investment attracted
Several beach projects in West Norfolk costing £150,000 will also go ahead with backing from the Environment Agency and the borough council.
The flood wall and barriers at Wells Harbour Quay and other sea defence schemes have also been approved.
Fundraisers at Hemsby attracted match-funding from the county council to build trial sea defences to protect their village where several homes fell from crumbling cliffs.
Toby Coke, chair of the environment, transport and development committee, said: "We have been able to help the selected schemes to unlock additional match funding.
"As a result, the £250,000 made available by the County Council will effectively result in over £1m worth of investment in flood protection schemes along our coastline."