Gardner-Serpollet 1905 steam car sells for £371,100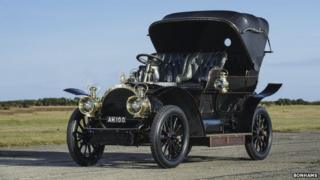 One of the only surviving models of a French steam car built in 1905 has been sold for £371,100 at auction.
The Gardner-Serpollet 18HP Type L Phaeton Steamer was, for about 50 years, part of Norfolk farmer George Milligen's collection of vintage cars, kept in Stalham.
It was sold by Bonhams in London on Friday to an undisclosed buyer.
The auction house said the "mildly eccentric Milligen" was once a "familiar sight" in the Stalham area.
Bonhams described the car as "the only surviving shaft drive Serpollet" and said it was "still going strong".
The only one other Type L - a chain drive version - survives in long-term captivity in the French National Motor Museum at Mulhouse, said the auction house.
Mr Milligen bought the car in 1957 for £450 from Alec Hodson, a harpsichord-maker who lived in Lavenham, Suffolk.
The family then sold it in 2009 to an unknown buyer for £238,000.
A Bonham's spokesman said: "Around his East Ruston Manor Farm at Stalham, the mildly eccentric Milligen was a familiar sight in any one of his amazing collection of early motor cars.
"Whether at high speed at the wheel of his 1929 supercharged Mercedes-Benz SSK, tootling along in his 1909 AX Renault, or, more spectacularly, keeping the pressure up on one of his steam vehicles."
Mr Milligen's family decided not to sell the Gardner-Serpollet in 2004 with the rest of the 38-vehicle collection, but had "with some reluctance" decided to put it on the open market in 2009 - the last time it was sold.
The sale price of the car before 1957 has not been recorded.