University of East Anglia destroys chemicals in controlled explosion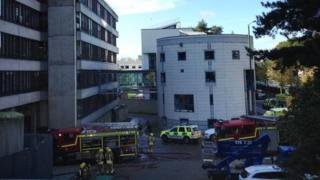 A controlled explosion to dispose of chemicals has been carried out at the University of East Anglia in Norwich after a laboratory fire last week.
A specialist firm carried out the operation at about 07:00 GMT in an "exceptional" event for the university.
It was carried out on playing fields between the campus and research park.
A university spokeswoman said it was because the science department was "taking steps to minimise its holdings of certain chemicals and materials".
The university said picric acid had been disposed of.
'Exceptional'
Hundreds of people were evacuated from the chemistry building on 21 October after a blaze broke out in a fume cupboard.
Nobody was hurt in the fire.
The spokeswoman said: "The university frequently disposes of waste and unwanted chemicals using specialist contractors.
"Part of this process involved the disposal by specialists of some substances on campus grounds, early today, at a safe distance from buildings.
"This is a routine procedure for the specialist company, but exceptional for UEA due to the nature of chemical being disposed of."
No buildings or areas were evacuated or closed during the planned explosion, she added.