Lingwood train clearing leaves crashes through barrier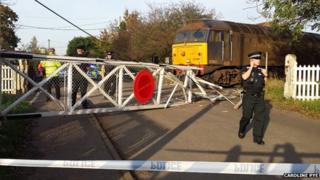 A train used for clearing leaves off the line has crashed through a level-crossing in Norfolk.
The rail-head treatment unit "went through the barrier" at Lingwood station about 14:20 GMT, said Network Rail. There are no reports of injuries.
The barriers were closed on Station Road in the village to allow traffic across the line when the train hit.
Services between Norwich and Great Yarmouth are being diverted through Reedham, said Greater Anglia.
The train did not derail, said an eyewitness. An investigation is now under way.
Ben Bephell, from Lingwood Parish Council, told BBC Radio Norfolk: "There's bits of wood, debris, metal and all sorts all over the places, nobody will be going across it in a hurry.
"The gates were closed until it ploughed straight through... one has disappeared completely with bits strewn everywhere, the other is hanging on its hinges, most of it is destroyed.
"It's a very busy road, we've been trying to get a crossing for pedestrians across the railway line as the crossing at this point where the road is is very busy.
"We're fortunate as we're out of school time, but the school is only 200 yards along the road."