Abellio Greater Anglia delays: 36,000 journeys cancelled over two years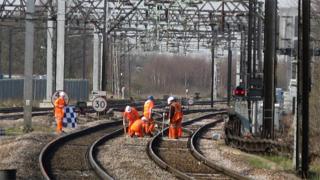 More than 36,000 train journeys on the Abellio Greater Anglia network have been cancelled since the company took over the franchise in 2012.
Department for Transport figures also reveal 5,808 train failures during the same period, the BBC has learned.
Abellio blames power line faults and signalling for the failures, which accounted for about 2% of 1.7m train journeys.
Figures were obtained by the BBC from a Freedom of Information (FoI) request.
The trains on lines through Norfolk, Suffolk, Cambridgeshire, Essex and Hertfordshire have been cancelled since February 2012 when it took over the franchise.
But the firm said it operated more than 1,900 trains a day.
Abellio Greater Anglia
February 2012 - November 2014
5,808
failures caused delays equivalent to three years and nine months
36,650 journeys were cancelled

1.7m train journeys took place across the network during this period
"The majority of cancellations are caused by infrastructure faults plus fatalities (almost doubled in the past year), weather related incidents and train faults," a spokesman said.
Punctuality for all services is 90.6%, the company said, compared to a national average of 89.2%.
Commuter Tim Woodgett said in addition to delays it can also be "unsafe" on the crowded carriages each morning.
"There's nowhere to hold on to so if the train stops or lurches people are falling over or getting very cramped, having mild panic attacks and fainting," he said.
"There's nothing you can do but try and help them because the conductor can't get down the carriage as it's too packed.
"We have to pay £5,000 or more for the privilege of being cramped into a sardine can."
Another commuter told the BBC he now wears jeans on the train, leaving his suit in the office, as he is used to "sitting down on the floor".
Network Rail said it was spending £170m next year to maintain and improve the rail infrastructure to enable a better train service.
Abellio said: "We recognise the need for new rolling stock, that can only happen when government lets a long franchise contract from October 2016."