Maccabees NME gig at Norwich Arts Centre ticket fiasco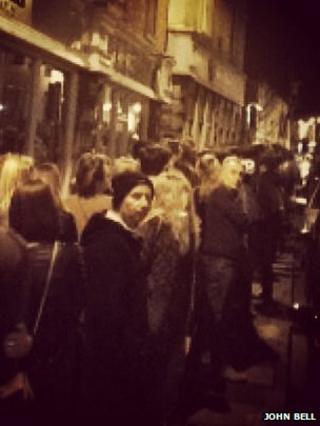 About 100 people were turned away from an NME gig celebrating Britain's best small venue after a ticketing blunder led to too many fans turning up.
The Maccabees concert at Norwich Arts Centre was put on for the magazine's competition winners on Sunday night.
But despite tickets being issued, fans were told less than four hours before the gig started they would only be let in on a first-come, first-served basis.
One fan told the BBC it was a "farce". The NME said it was "deeply sorry".
The magazine awarded the former church the accolade of Britain's best small venue in November following votes from readers.
The Eastern Daily Press said an NME representative at the gig explained the ticketing system allowed for a 40% no-show, as per all its events, but the Arts Centre concert was unusual as it appeared most people had turned up.
'No chance'
John Bell, 33, from Stalham, Norfolk, said he arrived with his friend five minutes after doors opened at the 290-capacity venue to find a "massive queue".
"We were informed within 10 minutes that there was no chance we were going to get in, even though we all had tickets," he said.
"Norwich Arts Centre is supposed to be celebrating the best small UK venue and it's turned into a bit of a farce.
"It's very naive by the NME to think that at least 40% of people wouldn't turn up to see a band like The Maccabees in a venue the size of Norwich Arts Centre.
"It's crazy and it's very frustrating."
Mr Bell added people in the queue had travelled from as far away as London and Colchester for the gig.
In a statement, the magazine said: "Tonight was a free show and when calculating ticket allocations we have to factor in that some confirmed guests will not attend.
"Unusually tonight, and due to truly exceptional demand, it seems more than usual did indeed come along.
"We are deeply sorry for those of you who travelled to the show and did not make it in, and we really want to look into how we can make it up to you."
It added affected fans should email the magazine.
Norwich Arts Centre tweeted: "We want to say a big thank you to everyone who came down for The Maccabees & we are genuinely sorry that not everybody was able to get in."