Waders' nocturnal life studied in Norfolk reserve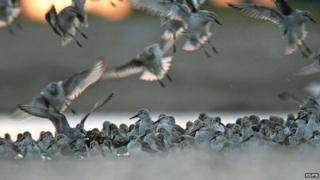 Thermal imaging cameras have been used in a ground-breaking study of a species of wading birds in Norfolk.
Research on the knot has been taking place at the RSPB's Snettisham nature reserve for the BBC's Winterwatch wildlife programme.
The knot undertakes one of the longest migrations of any bird and may be threatened by climate change.
The RSPB said the technology was being used to study the birds' nocturnal behaviour at Snettisham.
Tens of thousands of knots leave their breeding grounds in the Canadian Arctic and Greenland to overwinter on the coastlines and estuaries of the UK.
A spokesman for the RSPB said: "This is the first time that thermal imaging technology of the kind used by the BBC crew has been used to observe the nocturnal behaviour of these birds.
"Its use in this case will help to shed light on an aspect of these birds' lives that was previously a mystery and answer an interesting scientific question about the how the decreased threat of predation at night may or may not affect their behaviour.
"As far as scientists know, peregrines don't hunt at night in the Wash. The Winterwatch team were tasked with finding out whether the knot would be pushed off the mudflats by the tide and fly into the gravel pits in the same numbers as they do during daylight, or if they would be more likely to separate into smaller groups."
The results of the study will be broadcast by the BBC in January.