Norwich water main burst: No supplies for 5,000 Anglian Water customers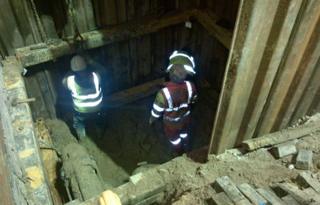 Nearly 30 emergency water tanks have been set up in villages near Norwich as 5,000 homes remain without supplies after a main burst.
The Anglian Water pipe burst 20ft (6m) underground at a pumping station at Caistor St Edmund on Sunday, affecting supplies to an area south of Norwich.
Some bowsers ran dry and were replaced with a bottled water depot.
Anglian Water said its engineers had run into "complications" as they tried to fix the burst main.
One resident from Poringland, one of the villages affected by the lack of supply, told BBC Radio Norfolk that with a house full of Christmas guests they had a "problem".
"We're coping with drinking water but the major inconvenience is being unable to flush the toilets."
Emma Staples from Anglian Water said: "We are contacting customers again to let them know we'll be delivering bottled water but it is just a case of the logistics.
"Co-ordinating an alternative supply for 5,000 homes is tricky and does just take a little bit longer."
"We are asking people to think about neighbours and people that perhaps can't get out."
Twenty six bowsers and bottled water stations have been set up across the NR14 and NR15 areas.
People are being urged to boil the water before they use it for cooking or drinking as a precaution.
The burst in the main was just outside the pumping station building and specialist equipment was brought in to dig down to it.
In a statement issued at 20:45 GMT on Monday, an Anglian Water spokesman said: "Unfortunately we've run into further complications as we tried to return water supplies to the area.
"We anticipate this will have set us back until late tonight, so our advice remains the same - where possible, please collect any water you'll need overnight and for tomorrow morning.
"We know this delay is not what people would have hoped to hear at this point. Despite this setback our engineers are continuing to work round the clock to fix this."