Blakeney Point seals: Culling 'not a consideration' after pupping boom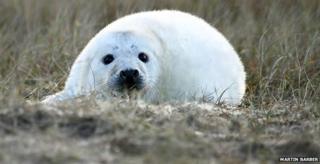 Coastal wardens have said there are "no concerns" over the record-breaking growth in a Norfolk seal population and that culling is "not a consideration".
Grey seal pup numbers at the National Trust Blakeney Point reserve have reached an all-time high of 2,425.
Following the year-on-year boost to the colony, public concern over the need to cull was raised on Facebook.
"People should have no concerns about the population because they are healthy and thriving," the National Trust said.
The seal colony on the trust's reserve in north Norfolk is now the biggest in England, with the population having exceeded pupping levels on the Farne Islands in Northumberland and Donna Nook in Lincolnshire.
"Grey seals started breeding from the south east and moved in a clockwise direction around the country," said Victoria Egan, countryside manger with the National Trust.
"Most colonies have now balanced, but the ones on the east coast are still rising.
"Culling only happens when there is lots of conflict and we've no sign of this, so there is no reason for us to consider it."
The seal colony at Blakeney has grown by about 25% each year for more than a decade and is a major tourist attraction to the county.
"Since colonising 13 years ago, breeding grey seals have done very well on Blakeney Point - it's a perfect site for breeding," said National Trust ranger Ajay Tegala.
"Aside for the complete absence of natural predators, its relative remoteness means human disturbance is minimal.
"It is also a safe place in that there are no sharp rocks; it is a shallow and sheltered, smooth, sandy beach with plenty of space to support large numbers of seals."
He added: "Last year's tidal surge caused devastation at other rookeries in England, but the height of the dunes at Blakeney provided a place of refuge, meaning that they were barely affected.
"Eventually numbers will peak, but there is still plenty of space on Blakeney Point for seals to spread into in future years if their success continues."