Pilot Ian Jennings jailed for flying while drunk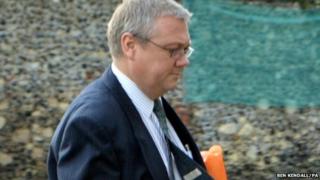 A pilot who flew an executive jet from Spain while he was three times over the alcohol limit has been jailed.
Ian Jennings, 47, from Gosport in Hampshire, was arrested at Norwich Airport on 30 October after landing a commercial chartered plane.
His passengers were millionaire scrap metal businessman Andre Serruy and a woman and three teenage girls.
Jailing him for nine months, Judge Stephen Holt said the public needed to be confident pilots were "100% sober".
'Topping up'
Norwich Crown Court heard that Jennings was reported to police by a passenger on the flight who became suspicious he had been drinking.
In November, Jennings, of Gale Moor Avenue, admitted flying while the alcohol in his breath was over the prescribed limit.
Jennings' barrister Marcus Crosskell claimed his client might have fallen foul of "topping up" after several days of heavy drinking to celebrate his engagement.
Mr Crosskell said: "He is not a gentleman who habitually drinks or has a drink problem."
Jennings claimed he had only drunk three pints of lager the night before the flight, but was told by Judge Holt that this claim "did not add up".
Sentencing him, Judge Holt said: "The devastation you could have wreaked, not only to passengers but also on the ground, goes without saying."
The court heard Jennings, who has 20 years' experience as a pilot, began his career on an RAF scholarship.
His licence has been suspended by the Civil Aviation Authority.