King's Lynn Mars food factory jobs promise in expansion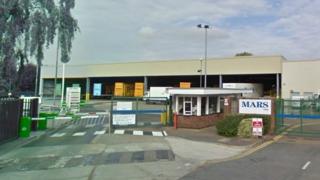 An international food company that set up a location in Norfolk 50 years ago is to begin a multi-million pound expansion.
Mars Food UK said it was in the early stages of planning an expansion at King's Lynn that will bring new jobs.
The plant producing sauce products is to expand and its offices modernised.
West Norfolk MP Henry Bellingham said Prime Minister David Cameron announced plans during trade and investment talks with US President Barack Obama.
Mr Cameron said 1,700 jobs would be created across the UK but Mars declined to say how many would be based at King's Lynn.
'Unemployment fallen'
Mars would not reveal how much would be spent at the plant but in a statement it said: "We have been manufacturing from King's Lynn for over 50 years and continue our commitment to investing and growing the site."
Mr Bellingham said: "Mars and Masterfoods have a reputation for creating and sustaining top quality, well-paid and secure jobs.
"Furthermore, they place a large number of contracts with local suppliers and contractors, so every one job they create puts another three or four into the local economy.
"Since 2010, unemployment in this constituency has fallen by nearly 1,000."
Mr Cameron said: "With UK exports to the US increasing by over £6 billion in just one year and US companies employing a million people across the UK, our trade relationship remains one of the strongest in the world."